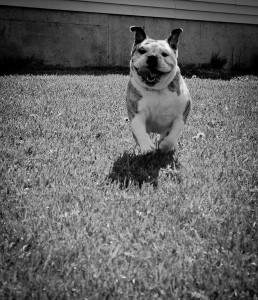 Thank you for your interest in fostering for DogsHome! Fostering is a great way to start saving lives and making a difference!
Please keep in mind:
Fostering with DogsHome is FREE! We pay for food, vet care, leash, harness, toys, treats … you name it!
When you foster with DogsHome, you get first dibs on adopting the dog. If we have a potential adopter, we ask you before proceeding with the adoption, if you would like to make the dog a permanent member of your family!
Click here to fill out an application to foster a dog.
And take a look at what a couple of our foster parents have to say about their experience: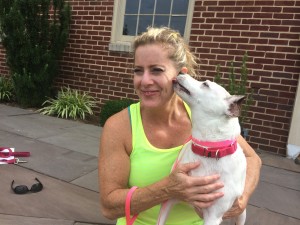 Jennifer with JJ: "I've never had a more positive experience with a rescue group as I've had with DogsHome. They offered any and all support I needed to give JJ a wonderful temporary home and experience. They gave me behavioral support to integrate him into our home with 4 resident dogs and 3 kids! They provided all the veterinary care he needed and found him a loving home so quickly.   JJ thrived and our experience, honestly, couldn't have been better. I won't hesitate to foster for DogsHome in the future!"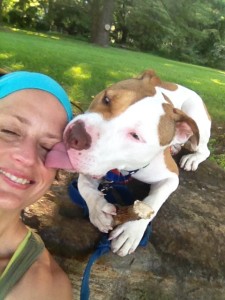 Jen with Timmy: "Fostering a dog is a wonderful experience. Yes, it's sad when the dog leaves, but that enables me to open my home to a new dog — and save another life."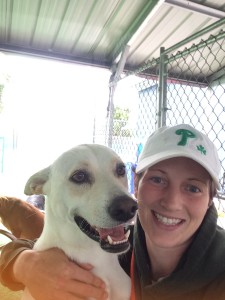 Sarah with Herman: "There is nothing more rewarding then fostering. To know that you not only gave this dog food, water, and shelter but life itself, is such an amazing feeling!"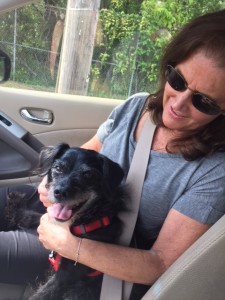 Donna with Finn: "My experience as a foster mom for Dogs Home was very good! They were helpful in providing transportation whenever I needed it, and they were also helpful in arranging for Finn's vet visits. It was a very positive experience, and I was happy to feel part of helping such a sweet dog."
  *   *   *   *   *
Click here to view our Foster Manual and in the meantime, here's what people ask most frequently:
How long does a dog stay in a foster home?
It all depends on the dog and the situation. For instance, dogs who are older or who have certain health issues may stay longer in foster than younger, healthier dogs. Our hope is that with your TLC (along with some great photos and publicity!), the dog will find his or her forever home relatively quickly.
Can I adopt my foster dog?
Absolutely! In fact, foster parents have first choice to adopt their foster dog. Talk to us about adopting your foster dog, and we'll take you through the procedure.
Can I foster a dog if I have other animals?
This is another situation where it depends on the dog. It's important for the dog to get along with everyone in his or her new family – and vice versa. You'll also want to talk to your doctor and/or veterinarian if anyone in your family is immune-compromised. There is always the risk of transmitting disease when bringing a new animal into your home. Of course, proper hygiene, keeping your animals current on their vaccinations, and preventive measures can reduce the risk of disease.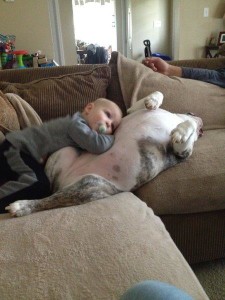 What supplies do I need to foster?
Foster parents provide space, exercise, socialization and most of all … love! We'll provide the food and any necessary medical care. We'll also work with you to train the dog in basic skills and provide him or her with enrichment activities. Please note that at DogsHome, we are committed to using only positive training methods. That means we focus on positive reinforcement and reward-based training. Negative reinforcement methods, including choke collars, prong/pinch collars, shock collars or any kind of aversive treatment (punishment) are not part of our program and may not be used when training our dogs.
Do I need any special skills to foster?
The greatest skill you can offer your foster dog is patience. It's likely your dog has undergone considerable stress throughout his or her life. Making the transition to your home is also stressful – even though we know the dog has now landed in a safe, loving place. So please be patient and make a commitment to help the dog remember how to enjoy life. This may take a lot of time, or it may not take much time at all. The key is realizing the dog will determine the pace at which he or she adjusts to your home, catches on to training, and socializes with your family.
What if I have questions while fostering?
When you become part of our foster program, we give you our full support, including an experienced mentor to help you through the entire process. You'll get all the contact information you need if anything comes up at any time. Don't worry: We would never just hand you the dog and say, "You're on your own!" At DogsHome, we feel so strongly about helping the people who help our dogs, that should you decide to adopt, we offer you our support throughout the dog's lifetime!
Please click here to fill out an application to foster a dog.
For additional questions, please email us at: ContactUs@DogsHomePA.org