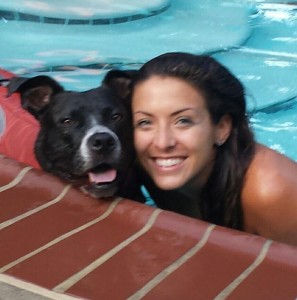 Some dogs touch your life in a way that keeps them in your heart forever.
BooBoo was one of those dogs.
We first got to know her when she'd been sitting in a shelter for more than six months, watching visitors walk past without seeing her, or hurrying away in fright as she barked and jumped at her kennel door.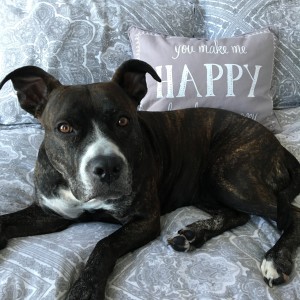 Yes, she was big, she was loud, and taking her for a walk was like putting a leash on a Mack truck. But scary? Not BooBoo.
She was attacked one day by a dog who'd gotten loose – a dog who was a fraction of BooBoo's size. And what did she do? BooBoo rolled on her back when she could as easily have swallowed that dog in one gulp.
But no one looked at her or ever asked to meet her, not one person … until the day Molly and her mom Cindy came into the shelter.
Molly took one look at BooBoo, and there it was: that magical, inexplicable, instantaneous bond that sometimes happens to a very lucky human and an even luckier shelter dog.
BooBoo had found Forever.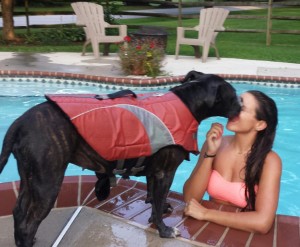 Her Forever lasted four years almost to the day, when she was taken quite suddenly, with no warning, this past weekend.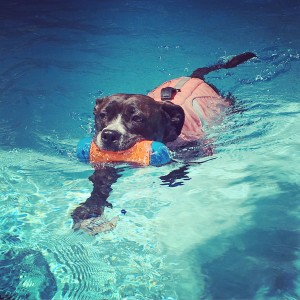 During those four years, she gave and received unconditional love. She was Molly's best friend and life partner.
There is no better way to describe what Boo and Molly meant to each other than these words from Molly's mom, Cindy:
"It's so hard to put into words Molly and Boo's special bond. You had to witness it to understand it.
"They shared the same heart. They breathed the same breath. Their spirit was one of one. To watch them together was mystical. They honored one another. They taught each other trust and goodness; acceptance and forgiveness; love and security.
"In the four short years they shared, Molly grew into the amazing woman she is because BooBoo rescued her.
"For whatever reason, the Lord decided BooBoo's job was done and called her home. We all are broken into pieces.
"Time will heal. Once we can see through the tears, we will put the pieces back together again. Boo will give us her strength through rays of sunshine peeking through dark clouds; the rainbow after the rain; twinkling stars lighting an empty, dark night … but the puzzle will never be complete without her. There will always be one piece missing."
Molly and Cindy, our thoughts are with you.
BooBoo … Rest in peace, sweet girl.